9 June to 27 June
Preview Party 8 June

BELONGING
Everard Smith/Jackson/McCabe/Rudomino/Wolfenden
Peter Everard Smith, Eamonn McCabe, Bill Jackson, Phoebe Rudomino and Stephen Wolfenden
Five locally based photographers with national and international reputations have come together once again at The Halesworth Gallery, Halesworth, as part of the 2018 PhotoEast Festival.
Eamonn McCabe, Bill Jackson, Stephen Wolfenden, Peter Everard Smith and Phoebe Rudomino explore the ideas around the festival theme. What does it mean to Belong?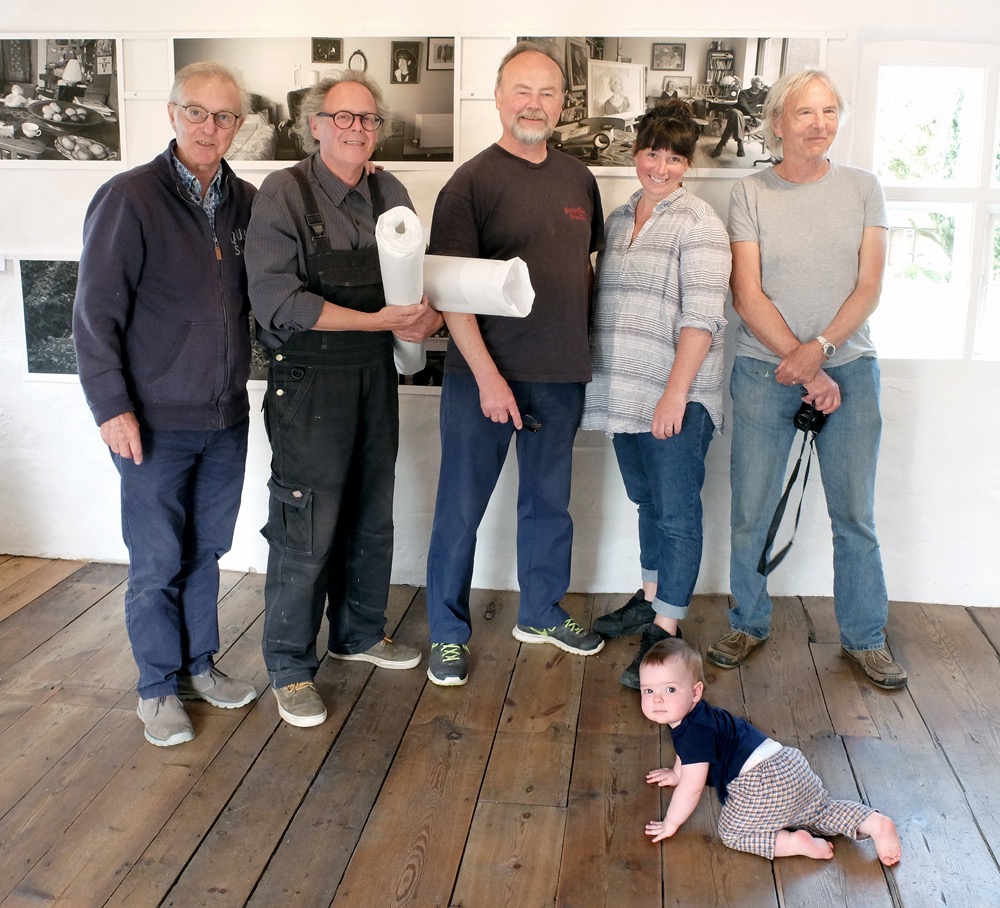 Here are their artist statements from the show.
Peter Everard Smith
Peter Everard Smith has been shooting the world of music and performing arts for over 40 years and many of his iconic photographs are in the collection of the National Portrait Gallery London and in many publications and album covers.
For this exhibition I am showing nine large black & white portraits, all friends and all with a strong Norfolk or Suffolk connection; they either having grown up here, lived here or worked here long enough to call East Anglia home. The earliest photograph was made in 1985 and the latest this May 2018. For those with a technical interest the first six prints in chronological order are from film originals, the square prints uncropped medium format the others 35mm all scanned from film. The wide photograph of Beth Orton is from two consecutive 35mm frames stitched together in Photoshop. The final three prints from 2017-18 were photographed on a Fuji digital camera. The nine prints were produced using an Epson 4900 photo printer
1. Tim Hunkin in his workshop at Bulcamp 1985
Tim is an engineer, cartoonist, writer, and artist living in Suffolk. Known for his TV series, The Secret Life of Machines, his long running cartoon in The Observer "The Rudiments of Wisdom" and for his Southwold Pier "Under The Pier Show", penny arcade featuring his humorous, interactive, coin-operated machines.
2. Nigel Lofthouse with his Pedestal Table, Rishangles 1990
He described himself as a natural maker and is known for experimenting with unusual techniques and combinations of materials. Nigel made costume jewellery and handbags for designers Jean Muir, Sandra Rhodes and Ben Gibbs and later furniture and lamps utilising hand painted African-inspired geometric designs. This portrait at his converted 12th century church home in Rishangles featured in Andy Warhol's Interview magazine in 1990.
3. Keith Payne & Robin Harries and the Rabid Dogs, Halesworth 1990
East Anglian inflatable maker Robin Harries and painter Keith Payne at the Air Artists workshop in Halesworth with giant inflatable rabid dogs created for the Rolling Stones Urban Jungle stage set.
4. Laurence Edwards Sculptor, Yew Tree Farm Laxfield 1995
An Internationally acclaimed sculptor Laurence is seen in this photograph investing his work in plaster, a stage in the production of the final bronze. The finished sculpture destined for his one man show at the Delfina Studios Gallery London. He is being assisted by other artists of the Yew Tree Farm Collective. The photograph was taken from a high viewpoint to mimic the style of early woodcuts with objects in the picture labelled with identifying letters.
5. Roger Deakin Wild Swimmer, Mellis Suffolk 1999
Author of Waterlog , his experiences of swimming in Britain's rivers and lakes and an advocate of wild swimming. Roger was writer, documentary maker, environmentalist and co-founder of Common Ground the arts, culture and environment organisation.
6. Beth Orton a Country Walk, Shimpling Norfolk 2002
A singer songwriter Beth was born in and spent her childhood in Norfolk. She released her first solo album Trailer Park in 1996. While touring world wide and living for a period in the USA she and her family are now based in London. Beth frequently revisits Norfolk. A print of this photograph has been acquired by the National Portrait Gallery.
7. The Williams Brothers, Jasper, Ali and Ben, Norfolk 2017
I have known musicians Jasper and Ali (Ali Love) since they were young. For a short time I was at Art school in Norwich with their dad Peter. Brother Ben and I only met for the first time on the day of this photograph at a party in Itteringham north Norfolk. This photograph celebrates filial affection.
8. Rachel Kellet & her dog Bobji, KaliWood Suffolk 2018
Rachel is a much travelled writer and environmentalist who in her own words, "born in Norwich, schooled in Essex, lived in India (for ten years) and settled in Suffolk". In 2014 Rachel bought Kaliwood. The cabin was built by friends Graham & Paul from twelve dead oaks found in the wood.
9. Adriano Vilanova, Trafalgar Square London 2018
Adriano was raised and educated in Norfolk. While still at his village school he exhibited an early talent and pleasure in writing. Finishing his education at Holland Park London he was selected to attend a young persons writing course at The Royal Court later returning to the Royal Court for a second time. He became a film maker writing and directing his own independent productions in partnership with a Holland Park School mate George Curran. They frequently recruiting young people from the streets of west London as actors in their films.
Bill Jackson
Bill Jackson is a photographer. film maker and soundscape designer, whose work has won many international awards including Gold at this years Tokyo International Foto Awards. He has just completed a collaboration for PhotoEast 2018 with Dance East, for a live performance by choreographer Tim Casson and friends, for Carte Postale.
Biographica is an on going collection of 'biographies' of friends and family members. I have been photographing portraits for over 40 years, usually people I know well as this gives me an unique insight into their lives and makes them very personal. In this series I deliberately used a 5x4 sliding back land camera, not made for portraiture but for landscapes, which gives a depth when used in tight enclosed spaces. The resulting letterbox view creates an opening, not unlike a letter box on a door, peeking into their living and working spaces.
One from this series was shortlisted for the Taylor Wessing Portrait Award at the NPG in 2010, some have been in exhibitions world wide including a selection by the photographer Mary Ellen Mark and photojournalist Ed Kashi. The series also received many awards from the Epson Panoramic Awards.
Eamonn McCabe
Eamonn McCabe is the multi-award winning former Picture Editor at The Guardian. Eamonn appears regularly on radio and T.V. talking about photography and has exhibited widely in Britain with several pieces of work in The National Portrait Gallery collection.
Started off photographing for local papers before freelancing for The Guardian and other national titles. Joined The Observer in 1976 and won Sports Photographer of The Year a record four times, covering three Olympics. In 1985 was named News Photographer of The Year for his work at The Heysel Stadium disaster. 1988 joined The Guardian as Picture Editor, winning Picture Editor of the year a record six times. 2001 returned to freelancing, photographing mainly people in the arts for The Guardian but also other newspapers and magazines. Presented BBC4's Britain in Focus…a history of photography.
I often photograph loners, poets,painters and writers. But every now and again I get to do people who are connected and it is fun to see if you can capture something that makes their relationship tick.
Phoebe Rudimino
Phoebe Rudomino specialises in behind-the-scenes underwater stills and video for feature film, TV and commercials. Film Credits for underwater EPK and/or Publicity Stills include Skyfall, Casino Royale, Atonement, Elizabeth The Golden Age, Harry Potter VI and VII, The Boat That Rocked, and Clash of the Titans.
Phoebe Rudomino is a water photographer whose work considers the diverse and fragile nature of the world's oceans and the threat and effect of pollution. As humans we are so intricately and intimately linked to water; it is our vital life source.
In our day to day lives, it's easy to forget the varied connections we have with our oceans. Phoebe Rudomino has a background in photography, film and exploration and her work has been exhibited on a national and international scale.
Plastic Soup
This exhibition is about human relationships with water and water pollutants. Water makes up 7/10s of the earth's surface. It is where we each begin our lives and is our vital life source. But modern life makes it easy to forget how closely connected we are to water. Our oceans are being suffocated by our pollution. These images explore this grave situation through sensation. Action requires emotional connections on individual and global levels. Both small and big changes are vital and urgent.
Stephen Wolfenden
Stephen Wolfenden is well known for his three books on Southwold shopkeepers and has been a professional photographer for over 45 years with a wide experience in theatre, industrial and architectural photography.
My contributions to this exhibition are a few photographs from an on-going photo project called 'Pictures from the Edge'.
We are a collection of island nations, the seaside - the edge, is where we seem to be happiest. Some are fortunate enough to live there, others come and holiday there. People relax, some do things they wouldn't dream of doing at home, from absolutely nothing to absolutely anything. They feel they empowered, they own and belong.
When the visitors have left and the quiet, cold, grey, days return, this is the period that I relish the most, seemingly charged with melancholy in its emptiness. The sheeted Whip Ride at the fairground, the Ghost Train - deserted, but full of ghosts, abandoned deck chairs on the beach watching a brooding sky.
People leave their imprints at the seaside in many ways, some not so good, some good, not least, a smiling smiley in the sand....
This show has been curated by Bill Jackson for PhotoEast and the Halesworth Gallery .