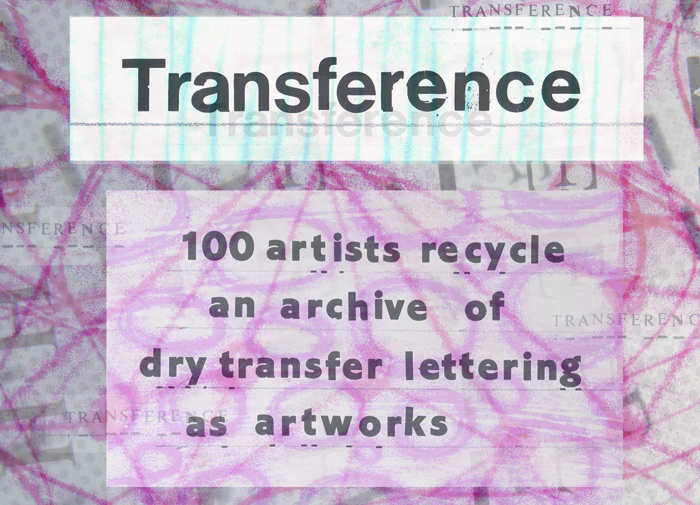 100 artists recycle an archive of dry transfer lettering as art in a wild and varied exhibiton. This show is open to any artist interested in taking part. Artists will receive a package of redundant dry transfer lettering which they can use as material and inspiration for a work of art which must be returned to the gallery on or before Thursday 15th August. Find out who is taking part so far.
It gives us great pleasure to invite you to take part in the forthcoming exhibition entitled Transference to be held at the Halesworth Gallery between the dates of 17th August and 4th September 2019. Upon receipt of your fee, an envelope containing dry transfer lettering will be delivered to you. This dry transfer lettering is the link between the artists. The dry transfer lettering will be mainly letter forms with some symbols and texture screens. The lettering sheets are quite old and there is no guarentee that the lettering will function properly. The sheets may be traced, scanned, photographed and collaged and used as inspiration. You may do with it what you will in the cause of the exhibition.
This show is open to all. It can be considered as a Mail Art show if distance from the gallery is an object. You can post any resulting artwork to us through the post or we could arrange to print a digital file on a large scale printer in the town, for instance. This makes an international entry for the show a possibility, if you are reading this at a distance from Suffolk.
1. ARTWORK
The resulting artwork must be delivered to the gallery on Thursday 15th August before noon for installation in a displayable state. The work may be delivered before this date by arrangement. There is a total size limit of 1500mm (150cm or 1.5 metres) in any direction. Modular or multi-part works, sculpture, video, suspended and other means of display can be accommodated. Please label the work with your name, contact number, title of work, media used and price on a label which will hang down across the front of the work. This will greatly help with the numbering and listing of works during installation Nothing that might be deemed offensive or dangerous to visitors or the fabric of the 400 year old building, please. Any questions, please ask. Click on this link to send us an email
2. BOOK
We will also be publishing an A5 perfect bound book to document and celebrate the exhibition in a limited edition of 105. The book is an extension of the show, an opportunity and challenge to make art in another medium. Each maker is asked to contribute a high resolution pdf or jpeg file for inclusion in the book by Friday 26th July. If you would prefer to send a returnable artwork to me for photography or scanning then please do so. The work may be an image of your contributed artwork or may be part of the development process. At the end of the show, or shortly after, each artist will receive a book containing 100 artworks by the participants as a memento. The five additional books will be displayed in the gallery during the show and raffled with proceeds going to the Sightsavers charity.
We are asking for a contribution of £20 (students £10) from each artist to cover the gallery charge including insurance, posters, invitations to the preview party, the website, postage and the cost of printing the book and other administration and organisational costs. The Halesworth Gallery will levy a commission of 25% on any sales.
There will be a preview party on Friday, 16th August from 6.30 to 8.30pm.
If you wish to accept this invitation we would be grateful if you would return your name and address with a cheque made payable to Paul Cope for £20 (student £10) towards the costs of the exhibition c/o The Halesworth Gallery, Steeple End, Halesworth, IPIP19 8LL. If you would prefer to pay by BACS please send me an email with your name and address and I can forward details.
Jpeg or pdf for book delivery Friday 26th July.
Artwork for gallery delivery Thursday 15th August.
Preview Party Friday 16th August.
Show ends and work to be collected after 5pm Wednesday 4th September.
Download a printable version of the invite letter for posting with a cheque.
Artists taking part in Transference
Click the headers to sort the table. The first time you click, the sorting direction is ascending (A to Z). Click again, and the sorting direction will be descending (Z to A):
| Location | Name | Surname |
| --- | --- | --- |
| Halesworth | Paul | Cope |
| Halesworth | Alan | Bennett |
| Halesworth | Yvonne | Forster |
| Yoxford | Simon | Turner |
| Essex | Peter Henry | Evans |
| Yoxford | Rosie | Mullane |
| Shotley | Peta | Hillier |
| London | Mark | Croxford |
| Salhouse | Josie | Smyth |
Back to top of page.
---