Halesworth Gallery

Celebrating 250 Years of the Royal Academy
---
Our first exhibition opens this weekend. Coming this year; lots of new art, two poetry readings, lots of talks and artist demonstrations plus 'Hexachordia' in concert.
28 April to 16 May
Barbara Bernard, Claire Cansick, Janice Lacey,
Preview Party 27 April from 6.30 to 8.30pm. All welcome.
Barbara Bernard
Meet the artist - Sat 12 May 11am-1pm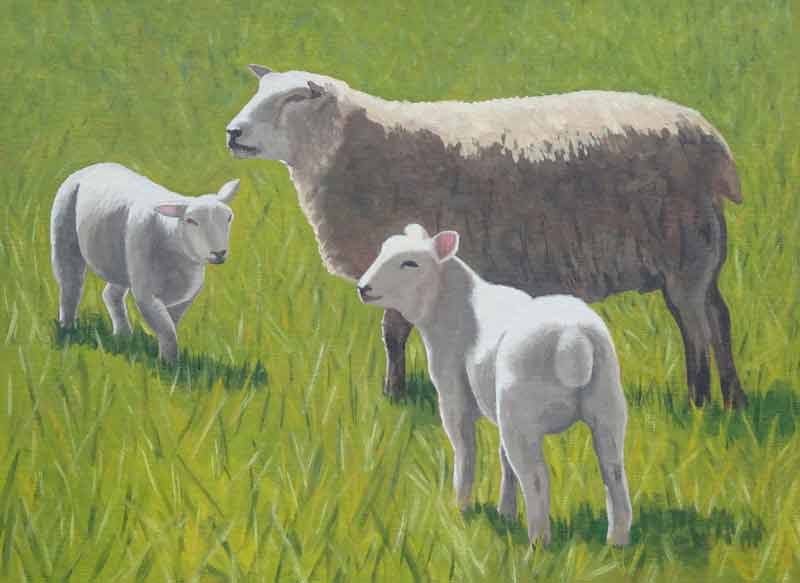 I am American by birth, but came to England in the 70's and stayed to make my life here. I moved from London to Ditchingham, Norfolk four years ago and work from a studio in my garden, overlooking fields.
I was a silkscreen printmaker for many years, but began painting in oils about twelve years ago. My years of printmaking have informed my work as a painter, but I am glad to break free from the limitations of a very technical medium, and I am enjoying the subtlety and variation achievable in paint.
My style is unashamedly realistic, but always - I hope - slightly unconventional. My subject matter is from the real world around me. What interests me most is the fall of light and shadow on things, whether they be landscape, animals, architecture, still life or the human figure.
More on www.barbarabernard.com
Claire Cansick
Meet the artist in the gallery- Wed 2 May 2-5pm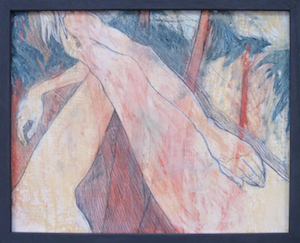 My exploration of the figurative form depicts lone female figures, bent and stretched through the defines of perspective, flattened and elongated, in a moment of stillness or captured in movement.
I like to abstract shapes, negative space and play with colour but particularly I enjoy the development of line. Lines are repeated obsessively over and over, scratched into the surface, contouring beyond the bounds of the forms, evolving in the process and are a reverberating theme throughout this body of work. They represent the past present and future, repetition, movement, trails and emotion which surrounds each figure.
Through the exploration of the perspective of the figure I push my limits of knowledge and understanding of drawing the human figure and strive to retain equilibrium. Repeatedly working a drawing within the same piece of work the lines come and go leaving vague ghosts behind which have altering flow and tension.
Find out more on www.clairecansick.com
Janice Lacey
Meet the artist Tuesday 1 May 2-5pm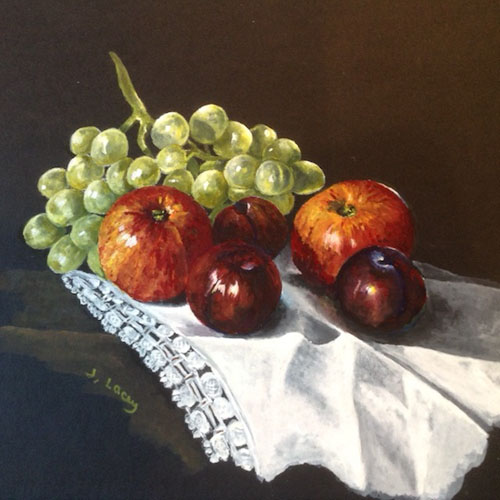 First studied oils with Worcester artist Walter Robin Jennings some twenty five years ago. I had several works accepted in the RSBA open exhibitions in Birmingham. After moving to Wales I attended life drawing classes, and attended a short course at Lampeter College.
We then moved to Norfolk where I exhibit in the Ferini gallery and the Lowestoft Art Centre. I belong to Lowestoft art club, the Yarmouth Guild, the East Anglian Society of Contemporary Artists, and Gorleston Broadlanders Art club where I hold office of secretary.
I work in oils, watercolour, and gouache. Each of these mediums bring their own rewards; oils for the freedom, watercolour for the delicacy I aim to produce, and gouache gives me the brilliancy I see in every day items, even if it is the mundane task of making a stew.
19 May to 6 June
Sarah Cannell, Lorry Cudmore, Abigail Phanggungfook
Preview Party 18 May
Sarah Cannell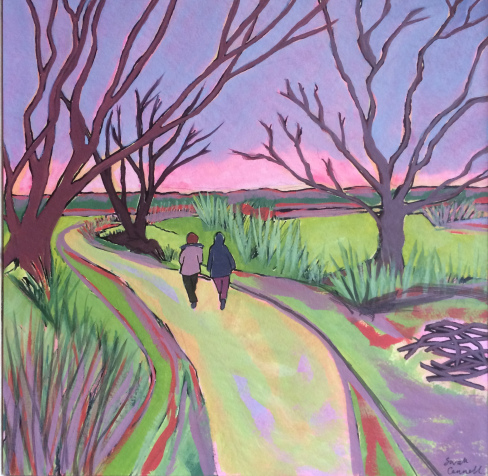 I love the process and experimentation that goes hand in hand with painting and have found that over the years I have incorporated and honed elements that I am drawn to. The black graphic line echoes the shadows cast over the landscape by hedgrows, furrows, trees helping to create strong compositions which are also reminiscent of the printmakers line. Combined with a dynamic, intense colour I create my own interpretation and response to what I feel is my landscape. I feel an emotional connection and am constantly in awe of the multitude of vibrant colour which is there if you look long enough.
Find out more at sarahcannell.com
Lorry Cudmore
My work reflects my interest in the natural world. I am drawn to the textures, shapes and colours found in dry stone walls and natural rock formations. I am fascinated by the shoes and patterns formed by erosion in land and seascapes: the wild, uncontrollable and chaotic often resulting in a moment of meditation.
I work mainly with four different clays: black chunky, p2 porcelain, golden harvest ( no longer available so looking for a replacement) and toasted stoneware. I press mould, hand build and throw to create each piece. I fire mainly in gas reduction but also in wood and raku when possible.
Abigail Phanggungfook
I was born in London, to parents migrated from the West Indies, I am of mixed heritage. I was raised and educated in London. Originally trained as a textile designer, I established a practice as a freelance designer, producing designs for the American home furnishings industry. Following a career break as a stay at home mother I commenced study for a MA in painting at City and Guilds Art School, London, graduating September 2017.
The subject matter I choose is autobiographical; inspiration comes from intimacy shared with the subject. Although works are sometimes deep and personal, I inject humour and subjectivity into my work. The message is often cryptic, and the narrative is not always immediate to the viewer. My work is sometimes a complex situation portrayed in a naive, cheerful style. Immediacy is my instinctive response, the drips and gestures both accidental and deliberate. Everything I paint has a deep emotional resonance. My expressive painting technique and naive language add to the drama and raw emotions of my paintings.
Find out more at www.phanggungfook.com
9 June to 27 June
Preview Party 8 June
Photoeast
Everard Smith/Jackson/McCabe/Rudomino/Wolfenden
Peter Everard Smith, Eamonn McCabe, Bill Jackson, Phoebe Rudomino and Stephen Wolfenden
Five locally based photographers with national and international reputations have come together once again at The Halesworth Gallery, Halesworth, as part of the 2018 PhotoEast Festival.
Eamonn McCabe, Bill Jackson, Stephen Wolfenden, Peter Everard Smith and Phoebe Rudomino explore the ideas around the festival theme. What does it mean to Belong?
Peter Everard Smith has been shooting the world of music and performing arts for over 40 years and many of his iconic photographs are in the collection of the National Portrait Gallery London and in many publications and album covers.
Bill Jackson has won many national and international awards and is the first on record to have received 3 awards from the RPS International Print Award. He has shown in major galleries and museums worldwide.
Eamonn McCabe is the multi-award winning former Picture Editor at The Guardian. Eamonn appears regularly on radio and T.V. talking about photography and has exhibited widely in Britain with several pieces of work in The National Portrait Gallery collection.
Phoebe Rudomino specialises in behind-the-scenes underwater stills and video for feature film, TV and commercials. Film Credits for underwater EPK and/or Publicity Stills include Skyfall, Casino Royale, Atonement, Elizabeth The Golden Age, Harry Potter VI and VII, The Boat That Rocked, and Clash of the Titans.
Stephen Wolfenden is well known for his three books on Southwold shopkeepers and has been a professional photographer for over 45 years with a wide experience in theatre, industrial and architectural photography.
This show has been curated by Bill Jackson for PhotoEast and the Halesworth Gallery .
30 June to 18 July
Penny Hunt, Sara McLaughlin, Sara Muzira
Preview party 29 June
Penny Hunt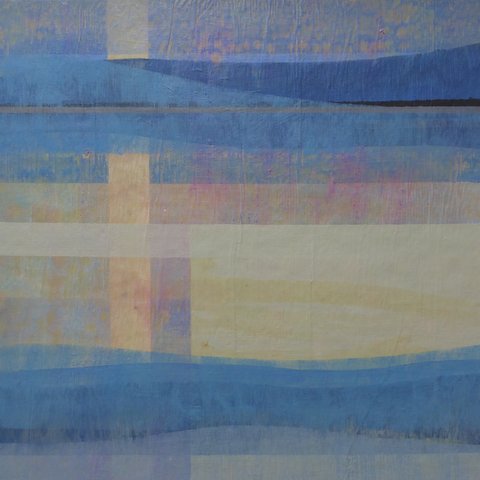 Coastlines. Paintings ranging from Seascape to Abstraction. Minimal, Meditative compositions inspired by the meeting of land, sea and sky.These compositions are made with layers of acrylic paint, considering colour, division of canvas, and emotion. It can be a long process of experimentation, trial and error, welcoming mistakes, reduction, searching for 'rightness', until finally a 'balanced' resolution is achieved.
Sara McLaughlin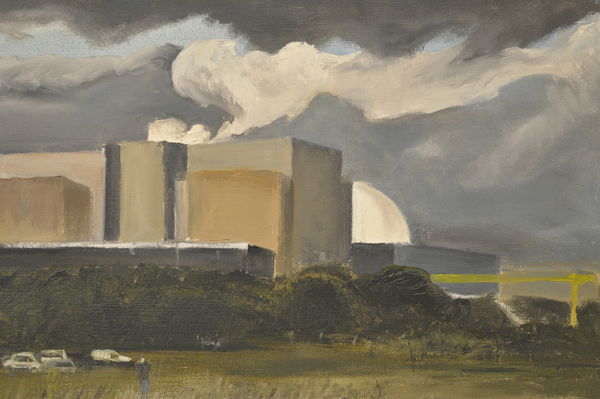 I am interested in the places where industry or ex-industry meets wildness, places of dynamic change. Old fishing equipment, the power station, broken piers and abandoned factories are frequent subjects. I use oils, acrylics and pen and ink to create landscapes and cityscapes, often drawing on the spot in the company of my dog, and then using sketches and photos in the studio to develop my ideas. I work in Hackney, London and also in Suffolk, where I am based in Wickham Market.
Find out more on www.saramclaughlin.artweb.com
Sara Muzira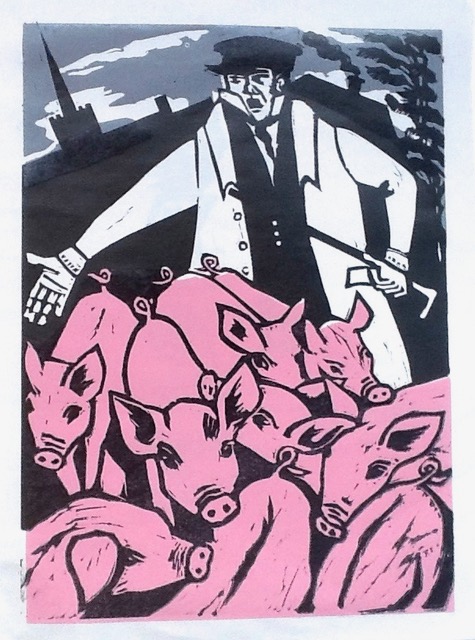 My work will be a mixture of print and paint. I hope to include not only work that I have already completed, such as the Red Barn Murder Series, but also new work, not yet conceived. It is the joy of making images that brings me back to art. I would hope to give visitors something to make them smile, and something to make them think. Maybe something to make them laugh.
21 July to 8 August
Preview 20 July
Legacy
RA Schools East Anglia Group
Celebrating 250 Years of the RA
Celebrating the 250th Anniversary of the Royal Academy of Art with a reflection on the influence of its teaching on graduates of the Royal Academy Schools
Linda Adcock, Lucy Bell, Kay Edwards, Chris Glanville, Paul Hawdon, Ronald Hellen, Melvyn King, Mary Millar Watt, M J Mott, Daphne Sandham, Ivy Smith, Joceline Wickham
11 to 29 August
Rosalind Bieber, Ali Morgan, Evelyn Polk
Preview 10 August
Rosalind Bieber
Following an accidental exposure to carbon monoxide some years ago I became allergic to all conventional art materials. I had to invent new substances with which to work and found that sand, dental concrete and wax, mixed together with a little rice glue, could build up textures. The addition of card and tissue paper creates a slight relief. These materials led onto the animal series.
Using monoprint as a beginning is an exciting way to work. It accidentally suggests images. Having taken a print I might cut it up and then work into that with the non-allergic materials until an image emerges.
I have grown to love animals through drawing them rather then the other way round. By studying the form one begins to sense the weight, the tension, the relaxation - what it might feel like to be in that particular body. Their gestures, being totally uninhibited, are pure.
Ali Morgan
I currently live in Suffolk, however I spent 15 years in the village port of Wivenhoe as a painter and sculptor. My Studio overlooked the Dry Dock in which the last vessel ever built is buried beneath a life sized ship shaped water feature. Between 1782 and 1958, shipwrights were busy with fishing smacks, sail and tramp steamers, gun boats for Lord Kitchener and minesweepers for both world wars, until its closure in 1961.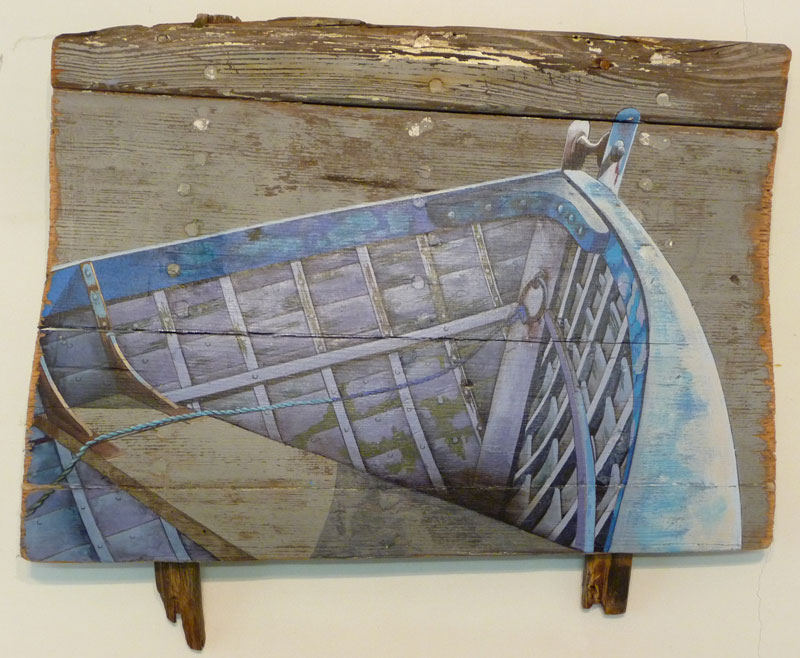 Boats have always held a fascination for me and a visit to Aldeburgh in 1998 to sketch and record the last surviving sea smacks became a passion. I developed a language over the years to capture their stunning craftsmanship, whilst reflecting the demise of the fishing industry.
I have collected and made things from scrap since childhood. My excitement comes mainly from surface, colour, texture and abstract shape. I work intuitively with assemblage made from reclaimed shards of boats of all kinds. My work has become a natural development into recording the last clinker built boats to fish from the South East coast before they completely disappear.
Evelyn Polk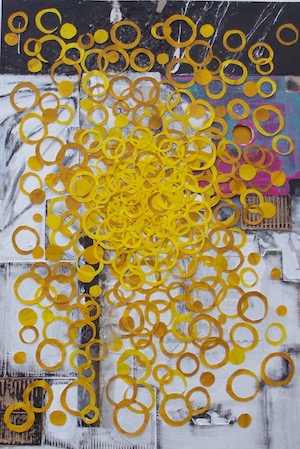 I am an artist who explores the found object and is the focus point of all of my work. I use a wide range of techniques, including cross printmaking, collage, painting, assemblages and drawing. Find out more at evelynpolk.vpweb.co.uk
1 to 19 September
Open Show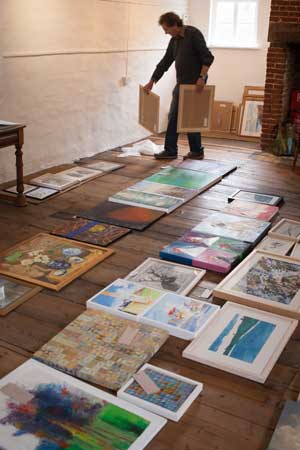 Preview Party Friday 31 August 6.30 to 8.30. All welcome.
22 September and 23 September
Special Event
To be confirmed
This years shows so far
Sat 21 and Sun 22 April
Young Artists' Art Exhibition
Wonderful work from our local children in schools and scout and guide groups. Not to be missed.
Open both days 11.00am to 5.00pm
---